IoT Development Company For Smart Solution
We are expert IoT developers developing and deploying mobile apps for startups, businesses, and enterprises. Embrace digital technology with IoT development. Connect, communicate, and control your various devices with an IoT app.
Our IoT development companies in India create custom solutions for our clients based on the requirements they describe. Our developers create apps that are secure and reliable and work flawlessly on all devices.
Hire expert IoT developers to connect different smart devices and control them through a single app. Contact us and get started with your project.
IoT App Development Services We Deliver
We understand the connectivity ecosystem and maintain a high level of security and
scalability. Here is the list of IoT development services we deliver.
IoT Consultancy
We have experience of several years in developing IoT applications which made us knowledgeable in the domain. Consult with our experts and get started.
IoT App Development
Our IoT experts have experience in developing native and cross-platform apps that allow easy access to the data collected by smart devices and work as a remote control for all.
IoT Wearable Development
Our Internet of things companies has extensive knowledge in creating solutions that are compatible with several wearable devices like smartwatches, smart home apps, and more.
IoT Testing and Maintenance
We test our solutions before delivering and maintain them after launch. Our IoT application developers make sure the software runs error-free on all the devices without any glitch.
Edge Computing
Our IoT app development company integrates edge computing into IoT devices instead of cloud computing to ensure quick offloading time and low latency rates.
IoT Dashboards
We help our clients to configure IoT devices, check sensor data with Bluetooth tools, handle IoT systems remotely, and show it through responsive dashboards.
IoT Firmware Integration
Our mobile app developers build & integrate firmware & embedded software like sensors, processors, gateways, & micro-controllers into a host of M2M and IoT devices.
Voice-Enabled Technology
We have experience in working with machine learning technologies like natural language processing and creating voice-enabled technology for IoT devices.
Create smart solutions with a top IoT development company. Give us a call and get a free consultation for your app idea.
Why Choose IoT App Development?
Internet of things technology has made several industries work a lot better. Here are some of
the best reasons to integrate IoT into the apps.
Smart Home
We create a smart home system based on the IoT platform which delivers an in-house experience. Here's what IoT can do with the house.
Measure home conditions
Control home access
Managing home appliances
Smart Energy Monitoring
Our team of engineers creates smart energy solutions that care for your assets, billings, and home by reducing the chances of human errors, and cost.
Smart metering system
Distribution of energy
Preset conditions based maintenance
Smart Asset Monitoring
With IoT, you can get a great view of your assets and how they perform with asset tracking and management.
Track assets
Make asset smart
Predictive maintenance
Smart Fleet Monitoring
BY integrating IoT into the fleet, Owners can track their fleet in real-time.
Track entire fleet
Accurate ETA predictions
Real-time fleet visibility
Our IoT Development Process
We follow a streamlined process from contacting us to creating amazing projects. Follow the steps and let's build a great app together.
Connect
Connect with our expert IoT engineers via email, skype, or call and share your project idea with them.
Consult
Get a free consultation for your project idea and a development plan, delivery date, and budget estimation.
Choose Your Model
We provide three hiring models: Fixed cost, Per hour & dedicated developer. Choose the one you deem fit.
Design & Develop
We design, and develop the IoT project based on our client's specific requirements and get their feedback.
Security Testing
We put our product through manual and automated testing to get a solution with no bug or error.
Launch
We launch the app in the app stores after testing and make potential efforts to make it reach the right audience.
Maintenance
We keep checking our product for bug fixing and keeping it bug-free. We make minor changes based on user feedback.
Update
Once the application is running well in the app stores, we suggest and create an update with trending features.
Industries We Cater
We render the best flutter development services for your business utility.
Choose your industry and we will deliver the best solution.
Technology Stack
4G-LTE | Bluetooth | Wireless | NFC | Ethernet | GSM Network
Google Cloud | Windows Azure | AWS | IBM Bluemix
Power | Cloud Sync | Sensors | Miniature Boards
COAP| TCP| UDP | AllJoyn | HTTP | MQTT | RESTful | XMPP
Why Should You Hire IoT App Developers
From 360 Degree Technosoft?
We offer everything that you need for an amazing app. Here's what set us apart and why you
should pick us as your partner.
Rigorous Research
In-depth research before starting the project is always fruitful. Our IoT engineers dig deep to integrate the best things into your project.
Attractive UI/UX
Design is the first thing where the user lands. Our mobile app designers create attractive designs to engage the users when they first land.
High Speed
Our user experience is simple and speedy. Our apps load fast that improve the conversion rate and benefits in Google ranking.
Highly Secure
Our mobile app developers build scalable software and integrate security measures like data encryption & secure admin panel.
Dedicated Project Manager
We assign a dedicated project manager for communication, project management, team management, and sharing project updates.
Post Launch Support
If you find any bug or issue with your live app, our team of Internet of Things engineers is here to solve it as quickly as possible for you.
In-House Development
The entire cycle of development is conducted in-house by our IoT team. This ensures quality output and timely delivery of the project.
Cross-Browser Support
Our IoT application development company creates products that function smoothly across various browsers and different devices.
Qwikdine allows people to scan the QR, get the menu, and order right from the table. Users can customize their order, pay from the app & tip the waiter as well.
View Portfolio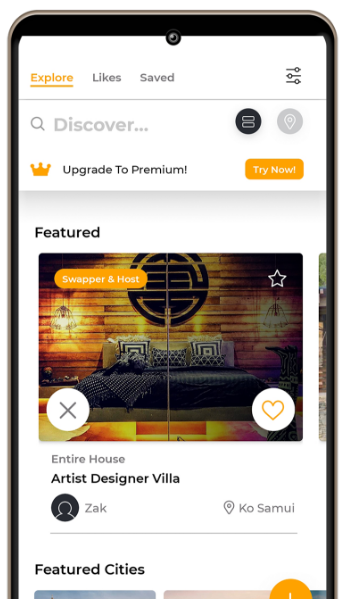 An app where people can browse the properties and swap their home affordably with their like-minded, instead of a hotel booking. see how we managed it.
View Portfolio
Join The Club
Businesses, brands, and entrepreneurs who trusted us with their projects.
Your project can be next in our portfolio.







FAQs
Attempted Answers
Every query about IoT development is solved below. If you have any other questions, just ask away.
Mobile Apps Developed
Still Counting
Web Apps Developed
Still Counting
Satisfied Clients
Still Counting
Countries We Serve In
Still Counting