×

Company

« Back

Get your product noticed with our amazing development services.

Hire Team

« Back

Getting a successful project starts by picking the right people for the right job role.
KEY FEATURES
Customized Filter
Ratings and Reviews
Chat With Your Mate
Pay Deposit
My Map
ABOUT APP
Looking for budget-friendly stays while traveling? How about just $1? Yes, you heard it, you can get accommodation for just $1. HolidaySwap allows travelers to swap their homes with other people at just $1. Now, you can travel the world even on a low budget.
The app offers to choose the country, city, and properties available for swap. Users of the app can also just swap a single bedroom or two bedrooms or an entire house as per their convenience. So, stop searching for expensive hotel rooms and start swapping.
STYLE GUIDE
Montserrat
Regular

/

Semi Bold

/ Bold
Source Sans Pro
Regular

/

Semi Bold

/ Bold
ABCDEFGHIJKLMN...
abcdefghijklmn...
0123456798
ABCDEFGHIJKLMN...
abcdefghijklmn...
0123456798
TECHNOLOGY STACK
CodeIgniter | Cocoa Touch
Features of HolidaySwap
1
Customized
Filter
Looking for a sea-facing house for your vacation? Looking to plan a vacation with rain? Well, you can know it all with a customized filter option in HolidaySwap. Set the filter and search to get a relevant result.
2
My Map
Any user can pin different must-visit places of their destination on the map. They can also share their experience visiting the place. This will help other travelers to decide which place to pick and which ones to ditch while visiting a particular destination.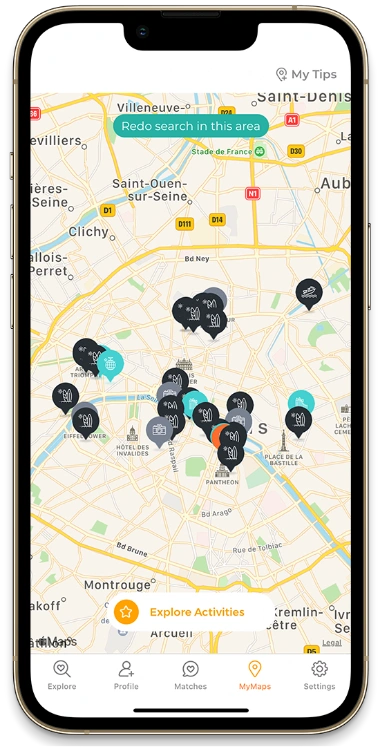 3
Chat with Your
Mate
The app allows you to chat with the person you want to swap the property with. Not only can you discuss the swap but also know things to do, the best places to visit, food to eat at the place you are going to visit.
4
Pay Deposit
Every swapper has to pay certain deposit money for the safety of the property. This is to make sure the tenant uses the property with care and in case of any damage, the deposit money can be used to pay for the damages.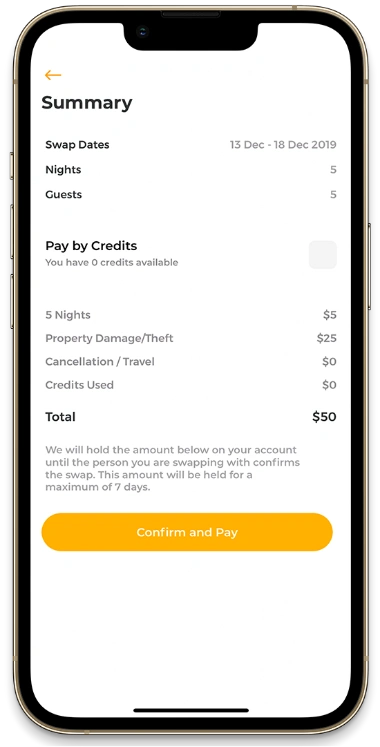 5
Ratings and
Reviews
If you like a property but unsure whether to pick it, you can check ratings and reviews of the property to be sure. You can also share your reviews and ratings to share about the home swapping experience you had.
ADMIN PANEL FEATURES
The admin can track the total number of properties listed and manage them all right from the dashboard. They can also keep track of the number of matches and swaps made. To offer the users what they like, the admin also gets the statistics of which type of property is trending in which country.
If the majority of people are traveling to London looking for an apartment, the admin will know. If most Maldives travelers look for a villa, the admin can know. Admin can also conduct fraud analysis and detect any fraud in the app to safeguard the user's property. Then there is also my map feature that shows which places people travel more in a particular destination. The user can pin the must-visit places and recommend them to other travelers and give interesting details about the same.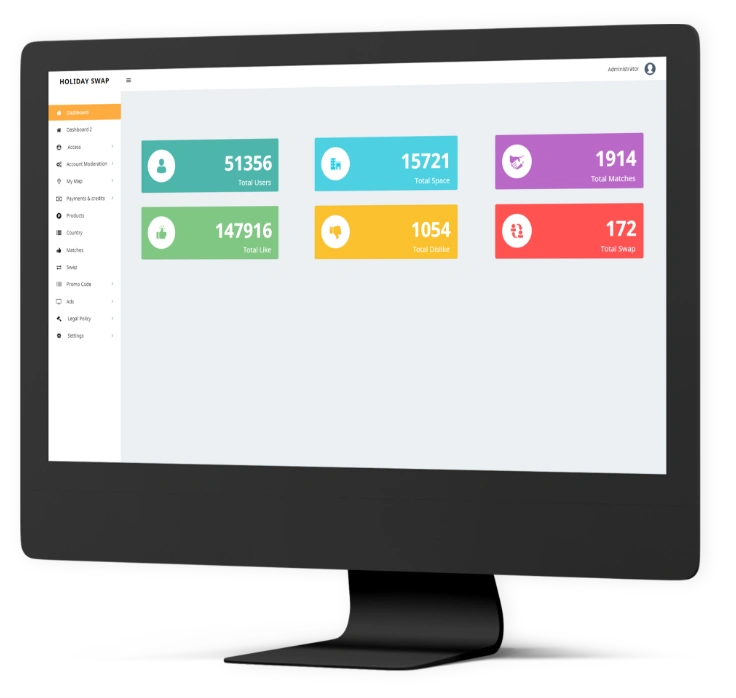 Mobile Apps Developed
Still Counting
Web Apps Developed
Still Counting
Satisfied Clients
Still Counting
Countries We Serve In
Still Counting